Let the Venture Begin…
Your party of young venturers has been tasked by the maiden LuChinda to discover the whereabouts of her father, Garrold. Following his trail, you come to one of the dark entrances to an abandoned dwarven underground mine. Your party agrees to enter the darkness to find him. Will you find Treasure and greatness or something more Sinister?
Venturers of Airth® Table Top Game (TTG) 'The Mines of Sable Scoria', is a fast paced, fantasy game set on the magical and dangerous world of Airth®. Players start their venturing career by exploring an underground dwarven complex in search of a lost person and the promise of treasure.
Each game is a new venture! The game board is expanded every turn giving a unique dungeon each time. Player encounters are guided by random Encounter cards, so no one knows what lurks behind each shadow! Players may find magic item cards which can be used to tip the balance of power or be traded with other players.
The object of the game is to be the player with the most geld when the last room is explored. Will the players choose to work together or against each other? That is for each group to decide.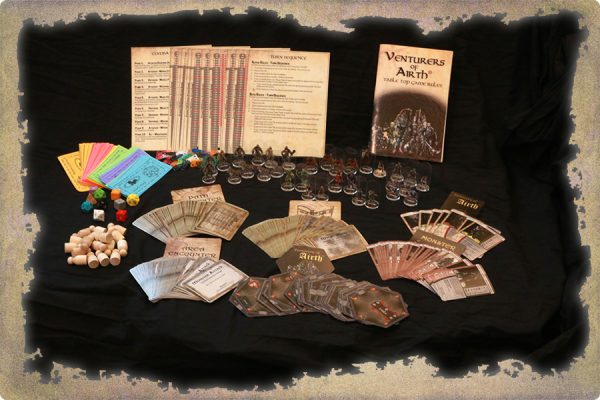 Game includes: 1 Rule Book,36 Hex MapTiles, 126 Poker Sized Game Cards, 32 Player and Monster Tokens, 12 Combat Matrix Cards, 48 Combat Matrix Clips, 1 Package of Paper Money, 10 Gamescience® dice, 20 Unexplored Area/Path Pawns
The game includes 5 sets of progressively challenging rules to create excitement for young players and experienced role players alike. Combat is resolved using a 2d10 variable combat system to give a sense of realism with simple rules. This basic set includes everything needed to play all 5 variations and options of the rules.
Additional players, monsters, treasures and items are available in expansion sets. There is even the option to merge two or more games together allowing group combat or tournament play. The plot lines and the possibilities for fun and adventure are endless.
Table Top Gaming, Fantasy Role Playing, or great fiction – you decide! The locations, events, magic and key characters in the game are consistent between the Tales of Airth® TTG, FRPG and book series. As the Venturers' Society and the Tales of Airth® books reveal more of the secrets of Airth®, the game will be expanded to include additional creatures, species, magic and realms.
Mines of Sable Scoria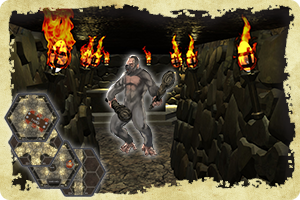 This is the core part of the gaming system. It includes everything pictured above. You begin your quest exploring the nearby abandoned dwarven mines. As you enter the darkness you wonder what you will find. You know that wolf bats and crypt rats are common to the area and should not pose a threat to your swordsmanship. As you finish descending the worn dusty stairs, you catch a familiar and wretched smell – Ugs are in the mines. This journey has just gotten much more treacherous.
Master Collector's Edition

Includes everything shown above plus collector's full color wooden box, full color rule book and laminated Combat Matrix Cards.
MSRP: $129.99
CLICK HERE TO PURCHASE ON AMAZON

Basic Edition

Includes the basics needed to play the game with 16 Player and Monster Tokens 24 Hex MapTiles.
MSRP: $59.99
CLICK HERE TO PURCHASE ON AMAZON

Basic Enhancement

Expands the Basic Edition to all of the cards and pieces in the Master Edition.
MSRP: $54.99
CLICK HERE TO PURCHASE ON AMAZON
Exciting Expansions
Continue the quest beyond the mines with expansions. Each expansion includes 36 hex tiles of a new environment, 15 Player and Monster Tokens, 36 new poker sized playing cards including: new players, monsters, encounters and treasure! Each expansion introduces a new character class or species and even provides a merchant to purchase new items.
Gaia Vena Pass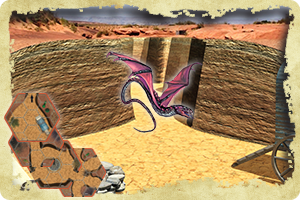 Formed from yearly flash floods in the spring, these labyrinth slot canyons are home to many dangerous creatures. Beware the poisons of the desert glider and sand scorpion which have claimed many poor venturer's lives. Fortunately, your party will be introduced to healers to aid you in your quest.
MSRP: $49.99

CLICK HERE TO PURCHASE ON AMAZON
Deep Root Forest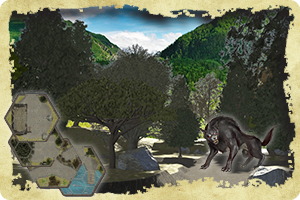 The Deeproot forest is a lush relatively unexplored region of woods to the west of town. The paths are wide but form a maze where it is easy to get lost. The forest gliders can strike from above and beware the stone skunks! Be warned – there are rumors that the giant razor back wolves have been seen prowling the forests.You venturers will be introduced to Wizards who can control the elements to aid you in your quest.
MSRP: $49.99

CLICK HERE TO PURCHASE ON AMAZON
Dragon's Maw Caverns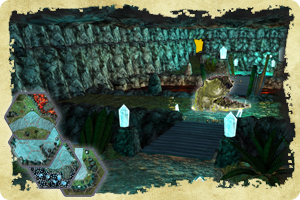 The Dragon's Maw Caverns are a natural wonder of crystals, underground rivers and molten lava. The name comes from the sharp natural formations throughout the caverns. Be on guard for the gi slugs whose secretions can eat through anything or the crystal cave bear who is said to be able to hunt in total darkness.Your party will meet several specialists – masters of stealth and feats of skill who are hiding out in the caves.
MSRP: $49.99

CLICK HERE TO PURCHASE ON AMAZON
Isle of Mists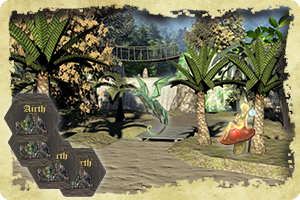 Shrouded in mist and protected by treacherous reefs, very few people have tread on this island. Fortunately you have found one if the few captains who is brave or foolish enough to give you passage. Rumors say you can find the sprite-like espringles and the mightly sabre-toothed liger on the island.Your party will meet the elusive meren, humanoids who adapted to the ocean. You may even sight an Aerling flying through the air.
MSRP: $49.99

CLICK HERE TO PURCHASE ON AMAZON
Accessories
Game Board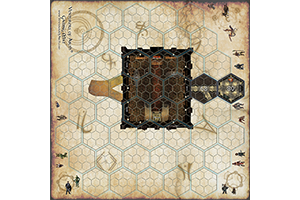 Take your gaming to the next level with the 24 inch by 24 inch game mat. It has the same layout as our tournament boards and allows easy alignment of the game pieces while playing. The surface also helps keep all of the cards from sliding. This is perfect for table top play.(Game pieces not included)
MSRP: $29.99
TEMPORARILY AVAILABLE ONLY AT SHOWS AND SIGNING EVENTS
Join the Venturers Society to get additional downloadable quests including printable tile sheets. Add them to your game to keep the adventure going.  Click Here
Here you will find Answers to many of the Frequently Asked Questions concerning the FRPG, TTG and the Venturers of Airth® player experience.   Click here