Meet the Venturers of Airth ® Team
Development Team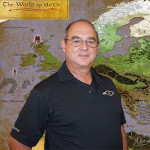 R J  Borton
Game Creator and Author
R.J. Borton was born and raised in Philadelphia, Pennsylvania. He went on to earn his undergraduate degree from a small Pennsylvania college that is no longer open, and then served in the US Army for four years. A retired engineer and photographer, he has been married for over forty-five years and has three children and six grandchildren.
Borton became involved in fantasy gaming in the early 1980s, and after playing numerous FRP-style games with many diverse people, designed and wrote his own. This revolutionary game was based on Borton's vision of how our world would have turned out had the events at the Tower of Babel in 600 BC gone differently than they did, where rather than technology, mankind developed magic instead.  Venturers of Airth® is an updated, enhanced and expanded revision of Borton's original game.
The Last Tale of T'Lar chronicles the history of Borton's epic world and can be read either on its own or to supplement the game, Venturers of Airth®
.
Jason Borton
Game Developer and Resident Magical Consultant
Art Team
Jason Borton
Creative Lead for Website and Game
Kenneth Leishman
3D artist, graphic artist and book cover designer
Nahuel Ventura
Character Artist
Phu Theiu
Character Artist
Tara Spiecker
The Last Tale of T'Lar sketch artist and illustrator. View some of her Sketch Art – click here